Dielectric Fluid Non-PCB Contained Less than 50 PPM Test No. and Test Date Label
Dielectric Fluid Non-PCB Contained Less than 50 PPM Test No. and Test Date Label
$5.29
/ Label
Quantity Pricing
| | | |
| --- | --- | --- |
| 1 | $5.29 | |
| 50 | $3.64 | Save 31 % |
| 100 | $2.20 | Save 58 % |
| 250 | $1.64 | Save 69 % |
| 500 | $1.46 | Save 72 % |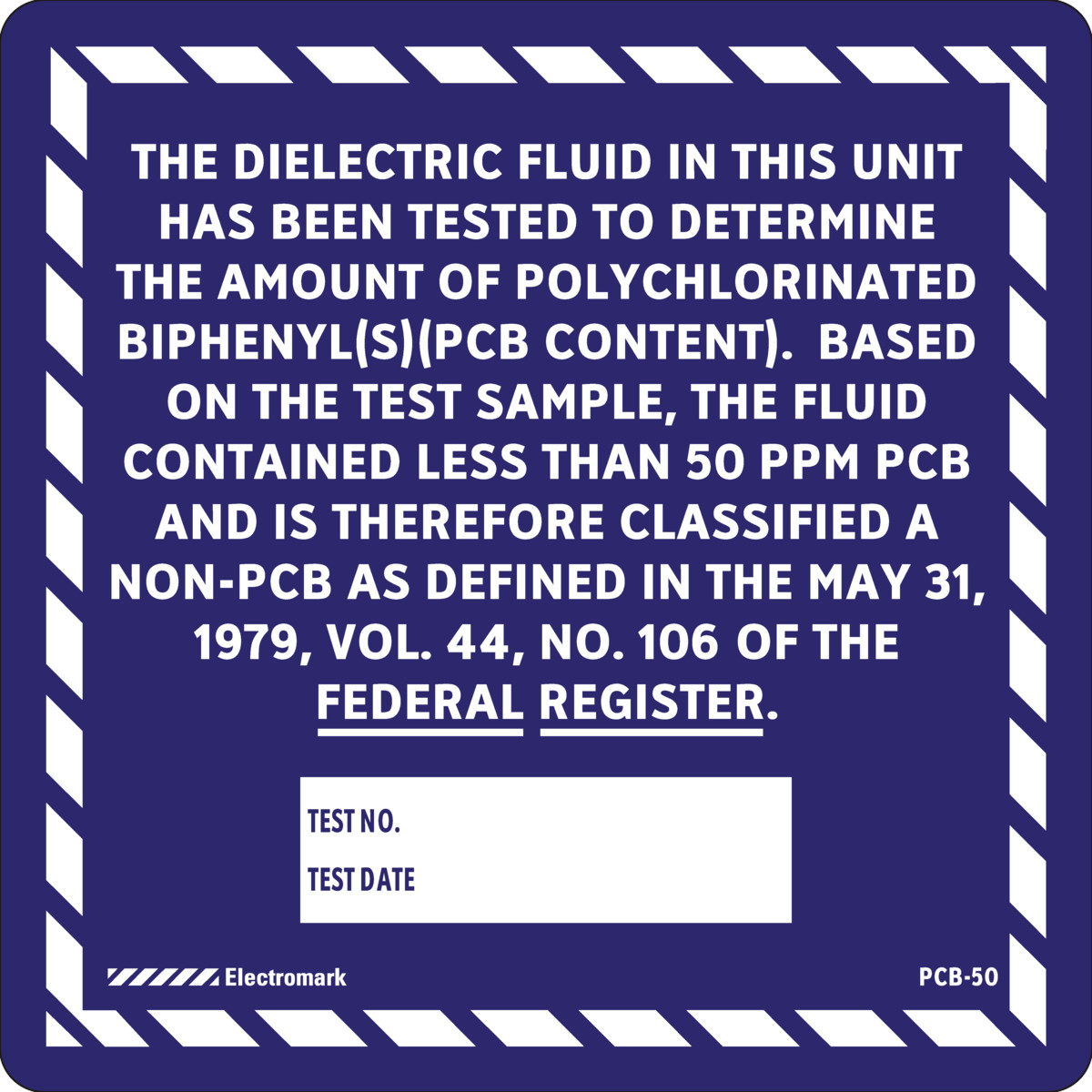 Adhesive Type
Application
Brand Name
Color
Country of Origin
Dimensions
ECCN (Export Commodity Control Number)
Height
HTS Code (Harmonized Tariff Schedule)
Laminated
Material
Material Properties
Product Number
PSPA Photoluminescence Class
Resistance Properties
RoHS Compliance Status
Shape
Sign Size (H x W)
Text Language
Text Legend
Thickness
UNSPSC
UOM
Width
Write-On Area?
Permanent Acrylic
Safety Identification
Brady®
White on Blue
Mexico
6 in H x 6 in W
EAR99
6 in
3919909900
Not Laminated
Polyester
Rigid
PCB50
Not Illuminated
Abrasion-Resistant, Chemical-Resistant, UV-Resistant
Compliant with Directive 2011/65/EU
Square
6" x 6"
English
THE DIELECTRIC FLUID IN THIS UNIT HAS BEEN TESTED To DETERMINE THE AMOUNT OF POLYCHLORINATED BIPHENYL(S)(PCB CONTENT). BASED ON THE TEST SAMPLE, THE FLUID CONTAINED LESS THAN 50 PPM PCB AND IS THEREFORE CLASSIFIED A NON-PCB AS DEFINED IN THE MAY 31, 1979 VOL. 44 NO. 106 OF THE FEDERAL REGISTER.
0.002 in
55121606
Label
6 in
Yes